Your customers today are looking for quick and easy solutions to their problems. Long wait times result in frustration and unsolved problems. And, not to mention, a poorly mapped out customer experience digital transformation initiative creates a bad reputation for your organization.
Thankfully, with the great advancements in AI and natural language processing, AI powered intelligent virtual agents (IVAs) have changed the way we handle customer inquiries at all hours of the day.
Did you know that 37% of customers expect a response within an hour and 16% expect an immediate response?
IVAs play a crucial part in both of these groups. IVAs are able to easily assess customer tone analysis, access customer information for self-service, and intelligently route interactions based on channel, customer need, and agent skill.
AI-powered intelligent virtual agents like Five9's are able to facilitate your customer calls and reduce average wait times for customers during busy hours. Plus, they allow customers to self-serve, get quick answers to FAQs, and deflect calls from live agents and only escalate complex issues and hard-to-solve questions to live agents.
With that being said, let's take a look at how cost-effective a live virtual agent can be at your organization in comparison to directing all calls to live agents and slowing down your organizations business processes.
Five9 Intelligent Virtual Agent Savings Calculator
Consider this example for a credit card company looking to bring on IVAs to better deliver its customer experience digital transformation initiatives:
Parameters:
Select task of the virtual agent takes 30 seconds
Busy hour call volume is 300
Estimate number of agent at this company is 8
Costs:
Fully burdened cost of a live agent is $40,000/year
Labor cost of virtual agent is $0/year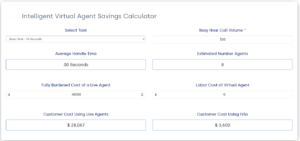 If we consider both the parameters and costs associated to taking on an IVA solution at your organization over a normal agent, we can see that the customer cost associated to using IVAs ($3,600) in comparison to using live agents ($28,067).
IVA self-service options is increasingly becoming deployed as part of customer digital transformation initiatives worldwide. Companies like Apple, Amazon, Google, and IBM have been at the front of the pack as they have heavily invested in machine learning to push human to machine interactions.
Calculate how much you can save at your organization today with this intuitive Five9 Intelligent Virtual Agent Savings Calculator.